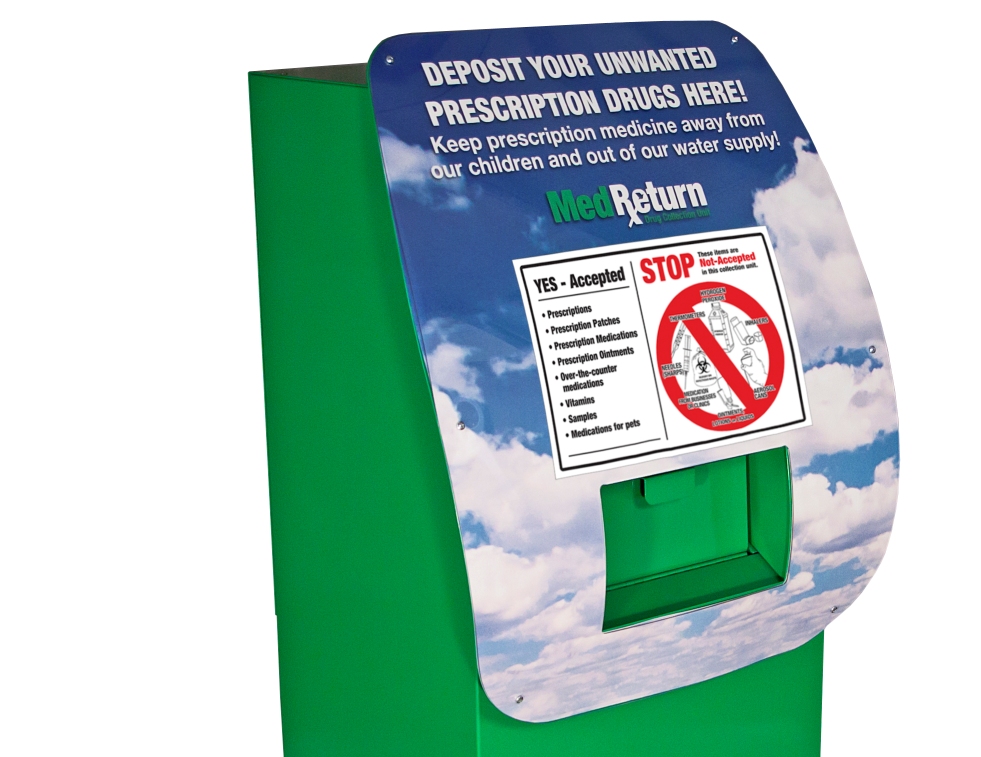 York County Solid Waste Authority Launches Free Medication Take-Back Box Program With Northern York County Regional Police Department
The York County Solid Waste Authority (Authority) has launched a medication take-back box program with Northern York County Regional Police Department (NYCRPD).  The program provides a secure disposal option for unwanted medications from residential sources at no cost to the public.  NYCRPD is the first police department in York County to offer a permanent medication take-back box location.  The Authority has invited all York County police departments to participate and is seeking to establish medication take-back boxes in police departments across the county.  The Authority will purchase a box for each interested police department and provide free destruction of medications at the York County Resource Recovery Center, the Authority's waste-to-energy facility located in Manchester Township.  To date, Fairview Township and West York Borough police departments have also expressed an interest in participating. 
 The secure medication take-back box, purchased from MedReturn, works like a mailbox: once medications are deposited, they cannot be retrieved and are contained in a locked compartment accessible only by law enforcement.  The green metal box weighs nearly 200 pounds and bolts to the floor and wall.  The NYCRPD has installed the take-back box in their police department lobby at 1445 East Canal Road in Dover.  The public may deposit unwanted medications anonymously in the take-back box Monday through Friday from 8:00 a.m. to 4:30 p.m.  Medication collected in the take-back box program will be delivered by NYCRPD to the Authority's waste-to-energy facility for safe destruction.  Law enforcement is also responsible for maintaining the box and securing medications that are received until they can be destroyed.
NYCRPD Chief Mark Bentzel says "Our department has participated for several years in the National Drug Take-back Day events, so hosting a permanent medication take-back box is a logical extension of our efforts to get drugs off the streets, manage them properly and keep our citizens safe.  We are pleased to be the first department to participate and hope that many more follow our lead."
The Authority's waste-to-energy facility is equipped with state of the art combustion technology and air emission controls making it York County's best waste management tool for destruction of unwanted or expired prescription or over-the-counter medication.  The facility's operator, Covanta York Renewable Energy, also supports this program.  Notes Dave Vollero, Authority Executive Director, "Using waste-to-energy technology to manage medications keeps them out of landfills and waste water treatment systems.  We have long advised residents to make medications unrecognizable and unpalatable and place them out with their regular garbage for delivery to our facility.  For those residents not comfortable with placing medication out at the curb, the take-bake box program will offer a convenient and secure option that achieves the same results: safe management, complete destruction and the production of alternative energy."
Residents interested in dropping medication at the take-back box at NYCRPD should remove their personal information from containers before depositing them in boxes.  ONLY RESIDENTIAL prescription or over-the-counter medications are accepted.  Pharmacies, hospitals and other commercial sources of medications are not eligible to participate.  Syringes and other "sharps" are not accepted in this program.
For more information about the program, visit the Authority's web site at: www.ycswa.com; or NYCRPD's web site at: http://nycrpd.org/.  As the program expands to other locations, the Authority will announce them to the public and will post the locations on its web site.
The NYCRPD currently serves Dover and North York Boroughs and Dover, Manchester, Paradise, Conewago, Franklin and Jackson Townships.  The authorized strength of the agency is 51 sworn members, and 4 civilian staff, all of whom are dedicated to providing the highest quality law enforcement service possible. 
The Authority facilitates responsible solid waste management through an integrated system that emphasizes waste reduction, reuse, recycling and resource recovery.  The Authority is the owner of the York County Resource Recovery Center in Manchester Township.  The Resource Recovery Center manages York County's household and commercial waste, as well as some manufacturing waste.