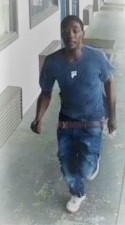 On 10.23.21 at 1:42PM the Northern York County Regional Police Department investigated an assault at a motel  located in the 300 block of Arsenal Rd. in Manchester Township. 
Two women, ages 49 and 35, reported they were leaving their room when they were confronted by an unknown male.  The male was agitated and asked them if his girlfriend was inside their room.  When they advised the suspect that nobody else was in the room he began to force his way into their room. 
The females advised they pushed the male back in an attempt to keep him from entering their room.  The victims reported the unknown male began punching them in the face.  The one victim advised the suspect reached for his waistband.  She advised that she observed a weapon that she believed to be a black handled knife in his waistband.  The female sprayed mace in the suspect's eyes and he fled the area on foot.  
Neither female suffered any injuries that required medical attention. 
The suspect, pictured above, is wanted for questioning by the police.  If you can identify the suspect you are requested to contact the Northern York County Regional Police Department at 717.467.TELL or tips@nycrpd.org.